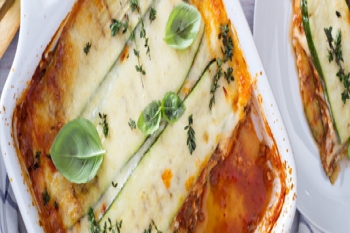 Servings: 8
Ingredients
4 medium-sized zucchini
2 tbsp. olive oil
1 lb ground turkey
1 24 ounce jar marinara sauce
¼ cup grated parmesan cheese
16 ounces part-skim ricotta cheese
1 large egg
6 ounces part-skim shredded mozzarella cheese
Fresh basil, for topping if desired
Directions
Preheat oven to 400* F.
Slice zucchini into thin slices lengthwise and place on a baking sheet. Lightly coat with about 1 tbsp. of olive oil.
Bake for 10-15 minutes or until tender.
In a skillet, add 1 tbsp. olive oil. In this same skillet add your ground turkey and cook, breaking turkey up as you go, on medium-high heat until browned.
Add your jar of marinara sauce to the turkey meat and turn off the heat.
In a bowl, stir together the ricotta cheese, egg, and Parmesan.
Once zucchini is cooled a bit you can begin layering your lasagna. Start with a small amount of your tomato sauce mixture in the bottom of your baking dish to prevent sticking. Add a layer of your zucchini, acting as your lasagna noodles. Top zucchini with a third of your sauce, then a third of your ricotta mixture and continue layering until all mixtures have been used. Add zucchini to top layer.
Top your lasagna mixture with the shredded mozzarella.
Bake for 20-25 minutes or until top is slightly browned.
Let cool slightly and serve.
Top with fresh basil if desired.
Nutrition: 1/8 of recipe serving = 356 calories, 3.3g fiber, 18.7g carb, 15g fat, 28g protein
Recipe by: Gigi Ravenhall, RDN