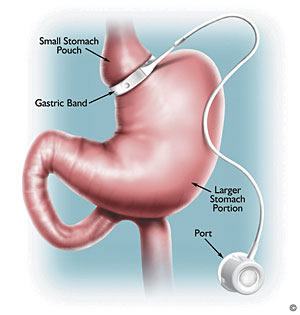 Lap-Band® is an adjustable gastric banding system used to facilitate gradual weight loss in morbidly obese patients. This procedure involves the placement of a hollow doughnut-shaped tube around the upper part of the stomach, which is then filled with saline (salt water) to restrict the amount of food the stomach can hold. The name of the procedure signifies the laparoscopic techniques and gastric band used in this minimally invasive surgery.
The Lap-Band works in two ways: it reduces the size of the stomach to hold less food, and it limits the amount of food that can enter the stomach. This means you feel full faster, so you eat less and lose weight. This system is the only weight loss surgery approved by the FDA and the only adjustable and reversible procedure for long-term weight loss available in the U.S. Lap-Banding is generally considered to be the safest, least invasive, and least traumatic of all weight loss surgeries.
Patients who undergo Lap-Band surgery typically lose about 1 to 2 pounds a week * , and lose up to 50 percent of their excess weight within the first year of surgery*. It is important to maintain a healthy life after surgery in order to maximize and fully enjoy the results of the procedure. This includes a diet that is low in fat and calories, as well as regular daily exercise.
Candidates for the Gastric Band (Lap-Band) Procedure
Lap-Band is designed to help morbidly obese patients gradually lose weight and control the results by restricting the size of the stomach and adhering to a healthy life. While many overweight patients can benefit from Lap-Band, there are certain guidelines to help determine who is a good candidate for this procedure. The Lap-Band procedure is most effective for patients who:
Are at least 18 years old
Have a BMI of 40 or higher or are at least 100 pounds overweight
Have been overweight for at least five years
Are committed to losing weight and making the necessary life changes
The Lap-Band system is not recommended for people who have disorders of the gastrointestinal tract (such as ulcers, esophagitis or Crohn's disease), heart or lung disease, or are pregnant.
If you are considering weight loss surgery, you can discuss your options with Dr. Ahmad to find out if you can benefit from this safe, effective and minimally invasive procedure.
Benefits of the Lap-Band Procedure
Adjustable
The Lap-Band can be tightened or loosened over time to let more or less food pass through and to regulate each patient's rate of weight loss. As part of the Lap-Band surgery, an access port is placed under the skin in the abdomen. Saline can then be injected into or removed from the Lap-Band through the access port at any time in order to prevent or allow food to pass through. Adjustments can also be made to accommodate pregnancy or illness. Thus patients can optimize their weight loss over a period of months or years with no additional surgery, as well as control their weight and maintain long-lasting results.
Reversible
Although it is intended to be a permanent weight loss solution, the Lap-Band can be removed, as it does not involve any serious alterations to intestinal organs. Removal can often be performed using the same laparoscopic techniques used to place the band. The stomach usually regains its previous shape and function afterwards. Patients who wish to remove the Lap-Band should be aware that they may regain some or all of the weight they have lost.
Minimally Invasive
The Lap-Band procedure can usually be performed on an outpatient basis, and patients can return to work and other regular activities within a week.
Talk to your doctor today to find out if you qualify for the Gastric Band procedure.
Register for a Seminar
Other Metabolic & Bariatric Surgery Procedures