Dr. Ahmad has performed more than 3,000 robotic surgeries, including robotic gastric bypass, robotic sleeve gastrectomy, robotic hernia procedures, robotic anti-reflux procedures, robotic colon operations and robotic gallbladder surgery. He is recognized in Long Island as one of the most advanced robotic surgeons in the country. Dr. Ahmad founded and is the director of the Robotic and Bariatric Surgery Center of Excellence at Mather Northwell Hospital. This is the only intuitive certified epicenter in Long Island for robotic bariatric surgery as of June 2020.
What is the Gallbladder?
The gallbladder is the pear-shaped organ located under the liver that collects and releases bile after eating to help in the digestion process.
What are Gallstones?
When the amount of bile and chemicals inside the gallbladder are imbalanced, gallstones may develop and irritate the lining of the gallbladder, causing heartburn, abdominal pain, nausea and vomiting. Gallstones are often treated with surgery to remove the gallbladder, which is not an essential organ for proper bodily function.
Surgical Treatment
A cholecystectomy is a surgical procedure performed to remove the gallbladder for patients with symptoms from gallstones. This procedure is one of the most commonly performed surgeries in the U.S. and is safe for most patients with gallbladder problems.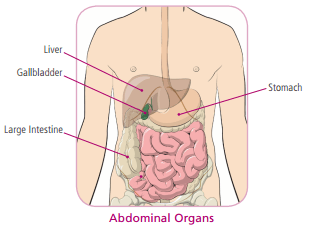 Minimally Invasive Laparoscopic Surgery
Cholecystectomy can be performed performed laparoscopically and robotically, which involves making several small incisions rather than one large incision to remove the gallbladder. This technique also avoids the need to cut the muscles of the abdomen for access to the gallbladder. A laparoscope and tiny surgical instruments are inserted into these incisions to remove the gallbladder, which is taken out through one of the same incisions. With laparoscopic and robotic surgery, patients can return to work more quickly after surgery and have less pain and scarring as well. Most patients can return home the same day.
While laparoscopic cholecystectomy is safe for most patients, there are certain risks associated with any surgical procedure. Some of these risks may include bleeding, infection, injury to the bile duct or injury to the intestines. These risks are considered rare, and can be reduced by choosing an experienced doctor to perform your surgery.
Make an Appointment
Other General Surgery Procedures