International Leader in Bariatric and Laparoscopic Surgery
Center of Excellence in
Metabolic & Bariatric Surgery

Dr. Ahmad & Mather Hospital

Center of Excellence in
Robotic Surgery

Dr. Ahmad & Mather Hospital

Excellence in
General Surgery
Impeccable Track Record of
Safety & Success
14000 + Bariatric, General, Endoscopic Surgeries
Dr. Ahmad with partners have performed about 9,000 bariatric surgeries.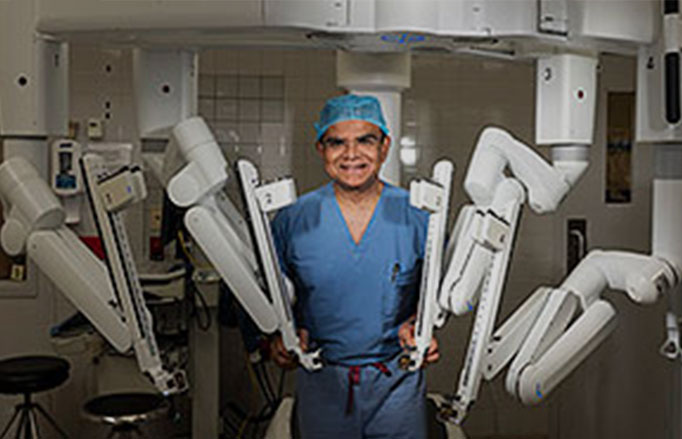 Master Surgeon in Metabolic and Bariatric Surgery
Master Surgeon in Robotic Surgery
Arif Ahmad MD, FRCS, FACS is recognized as one of America's top surgeons. He specializes in minimally invasive surgery. This cutting-edge surgery is done with small incisions and minimal pain and scarring. This includes all surgical procedures in the abdomen such as surgery of the stomach, esophagus (reflux), gallbladder, colon, spleen, and hernia. He is also trained in utilizing the da Vinci Robot, the most advanced surgical platform in the world.
"Leader in Weight Loss" by TIME Magazine

Top Surgeons by Pulse Magazine
Dr. Ahmad specializes in the laparoscopic gastric bypass, the lap band and the sleeve gastrectomy. He was the first surgeon in the area to have performed the laparoscopic gastric bypass and the Robotic Assisted gastric bypass. Prior to his arrival in Stony Brook the operation was only being done in the open fashion with big incisions. He was also the first surgeon in Stony Brook to have performed the lap band. Dr. Ahmad has more than 30 years of surgical experience. After completing Medical School and residency, he trained in the UK and obtained the FRCS (England and Edinburgh). He then did an eighteen-month advanced training (fellowship) in Harvard Medical School. This was followed by another five-year residency at the University of Connecticut. He spent a year mastering advanced training in Laparoscopic Surgery (fellowship) at the University of Virginia. He headed the minimally invasive program at Stony Brook University in 2001, where he taught other doctors to perform laparoscopic surgery including laparoscopic bariatric surgery. Currently he is the founder and director of the Bariatric Surgery Center of Excellence at Mather Northwell Hospital as well as the director of Robotic Surgery Center of Excellence at Mather Northwell Hospital. Dr. Ahmad is the Director of the Acid Reflux and Hiatal Hernia Centers of Distinction at St. Charles Hospital and St. Catherine of Siena Hospital.
Dr. Ahmad is renowned in the Long Island area for his impeccable track record of safety and success. He is the author of innovative surgical techniques in the field of laparoscopic bariatric surgery. This includes a new technique to prevent intestinal obstruction and a technique to detect leaks. These have been published in international Journals and have been adopted by surgeons worldwide. Dr. Ahmad has developed and pioneered the Innovative Single Incision Needlescopic lap band and gastric bypass.
Dr. Ahmad is the founder and director of the Bariatric Surgery Center of Excellence at Mather Northwell Hospital, where he currently performs most of his surgeries. He is also the director of the Robotic Surgery Center of Excellence at the Mather Northwell Hospital. He is a member of American Society of Bariatric Surgery, Fellow of American College of Surgeons, and member of Society of American Gastroendoscopic Surgeons.
Dr. Ahmad conducts patient education sessions every two weeks at Mather Hospital in Port Jefferson and in varying locations across Suffolk County. Please call if you wish to register or have other questions.
Dr. Ahmad has been Named a "Leader in Weight Loss" by TIME Magazine, and is featured in the October 7th, 2013 edition.
Over 14,000 bariatric, general and endoscopic procedures performed
Dr. Ahmad is rated one of America's top surgeons by Pulse magazine and the Consumer Research Council
Named one of the top 15 leaders in Bariatric surgery in America by Newsweek magazine
Dr Ahmad is the most experienced Robotic Bariatric surgeon in New York State.
Dr. Ahmad has an impeccable track record for safety and success with over 30 years experience.
Dr. Arif Ahmad MD, FRCS, FACS
Port Jefferson

625 Belle Terre Road
Suite 202
Port Jefferson, NY 11777

Tel:

Commack

500 Commack Road
Suite 150 D, Entrance E
Commack, NY 11725

Tel:

Riverhead

300 Old Country Road

Riverhead, NY 11901

Tel: