Roux-en-Y Gastric Bypass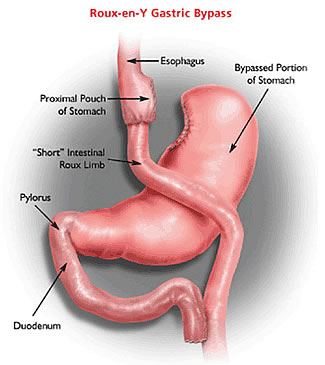 Gastric bypass surgery is performed to help morbidly obese patients lose significant amounts of weight without gaining it back. It is considered the "gold standard" for obesity surgery. Most patients lose about 70 percent of their excess weight and keep most of it off for more than five years.
The Procedure
The surgeon uses suture-like staples to create a pouch in the top of the stomach. The pouch is then connected directly to a section of the small intestine called the Roux limb. The smaller stomach pouch restricts the amount of food that can be digested at any time and limits the body's ability to absorb fat from food by bypassing the majority of the stomach and some of the small intestine. This combination of restrictive and malabsorptive techniques makes the Roux-en-Y procedure one of the most successful gastric bypass surgeries.
Commences with the use of laparoscopic instruments to make a surgical division of the upper stomach from the remaining portion.
The surgeon then divides the mid part of the small intestine and connects with the upper stomach.
The intestine is then joined back to itself.
Laparoscopic Gastric Bypass
The Next Step
Your next step is to register to attend one of Dr. Ahmad's next free informational seminars. At the seminar, Dr. Ahmad will discuss each of the procedures he offers, along with the features and advantages that differentiate us from other Bariatric Facilities on Long Island. We are delighted to welcome you to Dr. Arif Ahmad's Bariatric Center of Excellence at Mather Hospital, where Dr. Ahmad along with his Associates have helped about 9,000 patients improve their health and well-being and reclaim their lives over the last 15 years that he has been practicing Bariatric surgery. Please register for our next seminar below.
Register for a Seminar
Dr. Ahmad's average time for the bypass is about an hour and 30 minutes. A one or two day hospital stay is required. Patients who qualify for minimally invasive (laparoscopic) surgery have smaller incision scars, lower risk of hernias, less post-operative discomfort and a shorter recovery time.
The New Stomach
Because the stomach size is substantially reduced, patients are limited in the amount of food they can eat in a single meal. They also don't suffer from constant hunger. Smaller meals eaten throughout the day are recommended.
After gastric bypass surgery, patients need to be compliant with vitamin supplementation. Regular meetings with your surgeon and a dietitian will be scheduled before and after surgery to establish a diet and exercise plan to determine whether nutritional supplements are necessary.
Weight Loss After Surgery
Patients who undergo Roux-en-Y gastric bypass surgery must be willing to make life changes to achieve and maintain weight loss and prevent complications from the surgery. With determination, good nutrition and regular exercise, the results can be dramatic. Most patients lose about 1-2 pounds per week and reach a stable weight 18 to 24 months after surgery. Weight loss is typically most dramatic in the weeks immediately after surgery. Patients often enjoy immediate relief from weight-related illnesses such as sleep apnea, type 2 diabetes, high blood pressure, heartburn and incontinence.
Am I a Candidate?
Body Mass Index (BMI) is a calculation based on height and weight that measures body fat and determines classes of weight. A normal BMI is 18.5-24.9. Candidates for bariatric surgery typically have a BMI of 40 or more, or a BMI of 35 with a serious illness that can be improved with weight loss. Other factors taken into consideration include the patient's physical and mental health and ability to follow a strict diet and exercise program. Patients interested in this procedure should schedule a consultation with their physician.
Other Metabolic & Bariatric Surgery Procedures