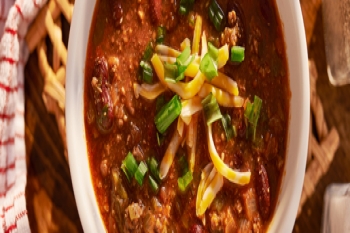 Servings: 6
Ingredients
1 tablespoon olive oil
1 small onion, diced
1 pound ground turkey
2 tablespoons tomato paste
2 tablespoons chili powder
1 teaspoon ground cumin
½ cup cauliflower rice
1 28-ounce can diced fire-roasted tomatoes
2 cups low-sodium chicken broth
1 15-ounce can kidney beans, drained and rinsed
Shredded cheddar cheese, for topping (optional)
Directions
Heat the olive oil in a large pot over medium-high heat. Add the diced onion and sauté until translucent. Add the ground turkey and cook through, breaking it up as it cooks with a wooden spoon. Add the tomato paste, chili powder and cumin and cook for 2 more minutes.
Stir the tomatoes, chicken broth, beans and cauliflower rice into the pot; bring to a simmer. Partially cover and cook, stirring occasionally, until thickened, 10 to 12 minutes.
Top with shredded cheddar, green onions and plain greek yogurt if desired!
Nutrition: 1/6 of recipe serving = 239 calories, 5.7g fiber, 18g carb, 9g fat, 20g protein
Recipe by: Gigi Ravenhall, RDN
Gigi Ravenhall is a Registered Dietitian at Long Island Laparoscopic Surgery focusing on pre and post-operative nutritional education and counseling. Gigi most enjoys the aspect of her work where she gets to know people on an individual basis to provide personalized support.