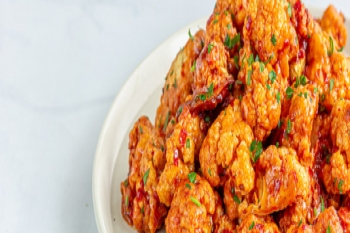 Servings: 6
Ingredients
1 Large Head Cauliflower, cut into florets
1 Tablespoon olive or canola oil
1 Teaspoon Garlic powder
2 Tablespoon Honey
2 Garlic Cloves, minced
¼ Cup Low sodium soy sauce
1 Table spoon Sriracha or chili sauce
1 Tea spoon cornstarch
1 Table spoon Green Onions sliced (optional)
1 Tea spoon Sesame Seeds (optional)
Directions
Preheat oven to 400 degrees and line a baking sheet with parchment paper.
Place Cauliflower florets in a bowl and toss with oil and garlic powder.
Pour cauliflower onto baking sheet and spread out into an even layer.
Bake for 20 minutes.
In a small saucepan, combine honey, garlic, soy sauce, sriracha and cornstarch and whisk until well incorporated.
Cook over medium heat for a few minutes until thickened.
Once cauliflower is removed from the oven allow it to cool for a few minutes.
Pour the sauce over the cauliflower and toss until fully coated. Top with green onions and sesame seeds if desired!
Nutrition: 1/6 of recipe= 60 calories, 1g fiber, 9.5g carb, 2.3g fat, 1.5g protein
Recipe by: Gigi Ravenhall