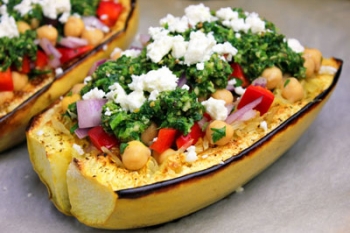 Servings: 4
Ingredients
1 spaghetti squash
2 tablespoons olive oil
½ cup cooked chickpeas
½ cup red bell pepper, chopped
2 tablespoonschopped red onion
¼ cup thinly sliced Kalamata olives
1 clove garlic, minced
1 tablespoon lemon juice
2 tablespoons pesto, prepared
2 tablespoons crumbled feta cheese
Directions
Preheat the oven to 400 degrees Fahrenheit. Using a sharp knife, cut spaghetti squash in half. Scoop out the insides of each half and discard.
Drizzle each squash half with olive oil and rub it over the entire surface. Sprinkle with salt and pepper. Place halves face down on baking sheet. Bake for 40 to 60 minutes, until the interiors are easily pierced through with a fork. Set aside to cool.
In a large bowl combine the chickpeas, bell pepper, onion, olives, pesto, garlic, lemon juice, remaining olive oil. Stir to combine.
Once the squash has cooled for a few minutes, use a fork to pull the squash from the skin. Scoop half of the chickpea mixture into each squash "bowl". Sprinkle 1 tablespoon feta over the top of each. Serve and enjoy!
Nutrition: ¼ of recipe serving = 227 calories, 3g fiber, 24g carb, 13g fat, 6g protein
Gigi Ravenhall is a Registered Dietitian at Long Island Laparoscopic Surgery focusing on pre and post-operative nutritional education and counseling. Gigi most enjoys the aspect of her work where she gets to know people on an individual basis to provide personalized support.