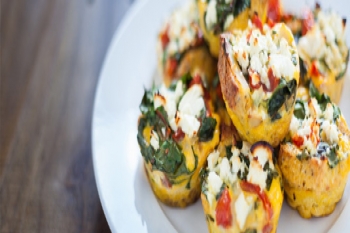 Serving size: 12 egg cups
1 cup baby spinach, chopped
3/4 cup red bell pepper, diced
3/4 cup cherry tomatoes, quartered
8 large eggs
1/4 teaspoon basil, fresh or dried
1/4 teaspoon oregano, fresh or dried
1/4 cup crumbled feta cheese
1/4 teaspoon salt
1 pinch ground black pepper
DIRECTIONS:
Preheat to 350 degrees F.
Coat a 12-cup muffin tin with nonstick spray.
Divide the spinach, pepper and tomato among the cups, filling about 2/3 of the cup.
In a large bowl with a spout, mix together the eggs, basil, oregano, salt and pepper until well combined. Pour the mixture evenly into egg cups over the vegetables. Sprinkle the feta evenly over the top of each cup.
Bake for 25 to 30 minutes, until the egg muffins have cooked through. Let cool for a few minutes.
Remove from the pan and enjoy right away or place in a container to be stored in the refrigerator or to be frozen for later.
Nutrition: 2 egg cups = 122 calories, 1g fiber, 3g carb, 8.1g fat, 10g protein
Gigi Ravenhall is a Registered Dietitian at Long Island Laparoscopic Surgery focusing on pre and post-operative nutritional education and counseling. Gigi most enjoys the aspect of her work where she gets to know people on an individual basis to provide personalized support.