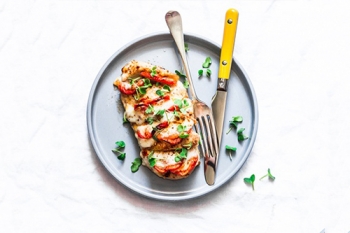 Servings: 4
Ingredients
2 tablespoons olive oil
1 red bell pepper, sliced
½ cup red onion, sliced
1 clove garlic, minced
2 chicken breasts, sliced in half to make 4 thin sliced cutlets
¼ cup part-skim shredded mozzarella cheese
Salt and pepper to taste
Directions
Heat olive oil in a skillet to medium high heat.
Add peppers and onions. Cook for about 5 minutes or until softened.
Add garlic and cook for another few minutes.
Push onions and peppers to edges of the pan and add chicken cutlets.
Season cutlets in the pan with salt and pepper if desired.
Cook on each side for 5 minutes, then check temperature for doneness.
Place peppers and onions on top of chicken cutlets.
Sprinkle mozzarella cheese on top and cover until melted.
Nutrition: ¼ of recipe serving = 190 calories, 1.5g fiber, 5g carb, 9g fat, 22g protein
Gigi Ravenhall is a Registered Dietitian at Long Island Laparoscopic Surgery focusing on pre and post-operative nutritional education and counseling. Gigi most enjoys the aspect of her work where she gets to know people on an individual basis to provide personalized support.