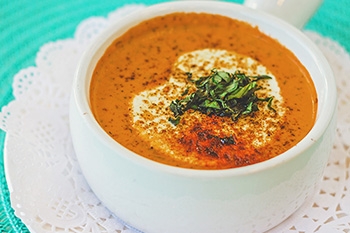 Ingredients
1 tbs. olive oil
1 medium onion, diced
1 celery stalk, chopped
1 large carrot, diced
1 jalapeño, ribs and seeds removed and diced
3 cloves garlic, minced
2 tsp. paprika
1 tsp. thyme, fresh or dried
1 tsp. oregano, fresh or dried
1 15oz. can cannellini beans, rinsed and drained
1 15oz. can light red kidney beans, rinsed and drained
1 15oz. can black beans, rinsed and drained
3 15oz cans fire roasted tomatoes
2 cups vegetable stock
Plain, low-fat, Greek yogurt (for topping)
Cilantro, chopped (for topping)
Lime, quartered (for topping)
Directions
In a large pot on medium to high heat add olive oil.
Add onion, celery, carrot, jalapeño and cook until soft.
Add garlic, paprika, thyme and oregano and cook for another minute.
Add beans, tomatoes and vegetable stock, stir together and simmer 1 hour.
Using an immersion blender or regular blender, blend until smooth.
Top with: 1 heaping tbs. Greek yogurt, chopped cilantro, and/or lime.
Nutrition: 1/8 of recipe serving = 161 calories, 13.6g protein, 6g fiber, 21g carb, 2.6g fat
Recipe by: Gigi Ravenhall, RDN