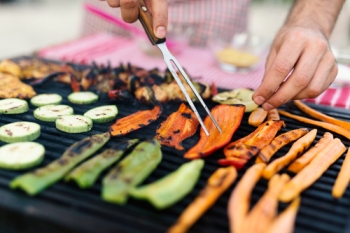 Barbecue season is upon us! There's no better way to enjoy our summer weather than to spend an evening outside cooking a meal. Barbecuing can be a great way to bond with family members and to save the money you might spend while eating out or by picking up takeout. Many classic barbecue foods may not align with your health and weight loss goals, the great news with barbecuing is that you can easily modify your grilling favorites. It can also be a chance to try something new all together.
Barbecuing is a cooking method that is great for adding flavor without adding a lot of oil or salt. If the grilling is taking place at your house, it means that you are in charge of the menu. If you are going to a family members house, it can be more difficult to make healthy choices since you are not coordinating the menu. In this case, bring something! Bringing a dish can be a great way to show that you appreciate the host having you, and can also ensure that you have a nutritious dish to fill your plate with.
Keep it simple. Think 'protein and produce'.
Grill these proteins: Chicken, lean beef burgers (90/10),turkey burgers, chicken sausage, shrimp kabobs, tuna steaks, swordfish, salmon, or even lobster (if you're feeling fancy).
Produce to pair with: Grilled tomato & corn salad, green salad, corn on the cob, grilled peppers and onions, veggie skewers, whole wheat pasta salad, or coleslaw made with vinegar based dressing or light mayo.
Have you tried grilling fruit?
Putting fruit on the grill will caramelize the natural sugars so it gives you a very sweet, tender product. Try halved peaches or pineapple and top with fresh whipped cream for dessert. If you want to keep it simple, skip the grill and serve a berry salad with mint, or your classic watermelon slices.
Don't forget to stay hydrated!
Staying hydrated is important on warm summer days. Consider making flavored water with cut fruit to encourage yourself and others to keep hydrating.