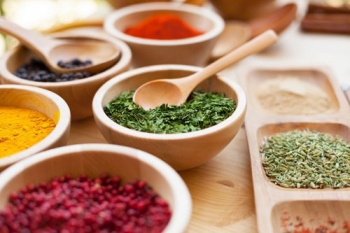 Herbs and spices are a great way to boost flavor and bring interest to dishes. Along with added flavor, herbs and spices also provide nutrition benefits. Many herbs and spices such as clove, rosemary, sage, oregano, and cinnamon are great sources of antioxidants. Antioxidants are compounds that fight free radicals in our bodies which are molecules that cause damage in our bodies. Once you start regularly cooking with herbs and spices, you won't miss the high fat and salt alternatives.
Herbs and spices can be found fresh or in dried form. Either can provided great flavor and nutrition to dishes. Next time you are at the store, consider picking up fresh herbs in the produce isle, or check out the dried herb section to try something new.
Tips for Preparation:
Use kitchen shears or a sharp knife to cut leaves of fresh herbs.
When using whole spices, grind them up just before adding them to the recipe. This will insure maximum flavor.
Remember that dried herbs have more flavor than fresh herbs. You may need to use less than the recipe calls for if you are substituting fresh for dry herbs.
When using fresh herbs in a hot recipe, add them just before serving so they so they do not wilt and lose flavor.
Around the World with Flavor:
Be inspired and try these unique combinations for yourself!
Chinese: Garlic, ginger, green onion, hop peppers, mustard, rice wine, sesame oil, sesame seeds, soy sauce, black pepper, cilantro
Japanese: Ginger, mustard, onion, horseradish, soy sauce, teriyaki sauce, coriander
Caribbean: Allspice, chili powder, cilantro, curry, garlic, ginger, mint
French: Bay leaves, chervil, garlic, mint, parsley, tarragon, thyme, wine
Greek: Garlic, lemon, mint, oregano, parsley, thyme
Indian: Chili powder, cilantro, cinnamon, curry, cloves, garlic, ginger, mint, turmeric, cardamom
Italian: Basil, garlic, oregano, parsley, tomatoes, wine
Mexican: Cilantro, chili peppers, chili powder, parsley, cinnamon, cumin, garlic, oregano, thyme
Spanish & Portuguese: Black pepper, chili powder, cilantro, paprika, parsley, saffron
Written by: Gigi Ravenhall, Registered Dietitian at Long Island Laparoscopic Surgery