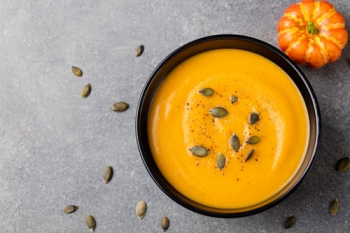 Servings: 4
Ingredients
1 tablespoon olive oil
1/4 cup minced yellow onion
1/2 cup minced celery
1 clove garlic, minced
1 teaspoon curry powder
3 cups low sodium chicken broth
1 can (15 oz) 100% pure pumpkin puree
1 cup low fat plain Greek yogurt
Salt and pepper to taste
Directions
In a saucepan, heat olive oil over medium heat. Add onion and celery and sauté for about 5 minutes.
Add garlic and curry powder and cook for another minute.
Add broth and pumpkin puree and cook until simmering.
Carefully, use an immersion blender to blend smooth, or puree in blender.
Remove from heat and stir in Greek yogurt.
Season with salt and pepper to taste.
Nutrition: 1/4 of recipe serving = 111 calories, 2.5g fiber, 9.6g carb, 4.7g fat, 8g protein
Gigi Ravenhall is a Registered Dietitian at Long Island Laparoscopic Surgery focusing on pre and post-operative nutritional education and counseling. Gigi most enjoys the aspect of her work where she gets to know people on an individual basis to provide personalized support.