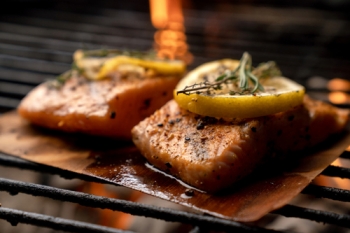 INGREDIENTS
1 cedar plank (carried in stores where you can buy grilling equipment, many grocery stores, or online)
2 salmon filets
4 tbsp.Dijon mustard
Salt and pepper to taste
DIRECTIONS
Soak cedar plank in water for 2 hours
Heat your grill to medium-high heat ~350 degrees. If using a gas grill, do not heat with all burners, you want to leave one area for indirect heat. If using a charcoal grill, leave a section free from charcoals.
Cut skin away from salmon filets if they came with skin
Run filets under cold water and then pat dry
Place filets on the cedar plank, add ~2tbsp.of Dijon mustard to each filet and spread over top and sides of each filet. Add salt and pepper to taste.
Place plank with salmon in the section of your grill where the burner is off or where there are no charcoals directly beneath and close your grill. Cook for ~15 minutes or until salmon is cooked to 135 degrees. Be aware small or thinner fillets will cook quicker than larger or thicker cuts.
Serve directly from the plank.
Nutrition: 1 3oz serving = 180 calories, 0g fiber, 0g carb, 6g fat, 21g protein