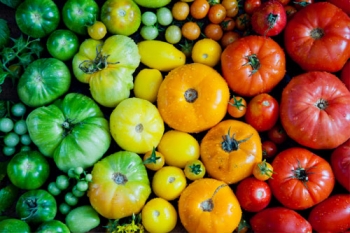 Home gardens can be a fun and rewarding way to improve your diet by adding nutrient rich fruits and veggies into meals and snacks! Our summer season on long island gives us plenty of time to start a garden, big or small, and to reap the benefits of what we've sown.
Fruits and vegetables contain vitamins and minerals. These vitamins and minerals are beneficial to our health and prevent us from developing nutritional deficiencies. Fruits and vegetables contain phytochemicals that are naturally occurring compounds that have protective health benefits. Fruits and vegetables also contain FIBER! Fiber is a carbohydrate that the body cannot digest. Fiber helps to keep us going to the bathroom regularly, helps regulate blood sugar levels, and helps to keep us full longer.
The following fruits and vegetables are well suited for our climate here on long island and you might be surprised to find out how beneficial each of these foods can be to your health.
Vitamin A: growth and development, immune function, reproduction, skin, bone and red blood cell formation, vision. Found in: Carrots, spinach, broccoli, pumpkin, red peppers, asparagus
Vitamin C: Antioxidant, collagen and tissue formation, immune function and wound healing. Found in: Broccoli, brussels sprouts, peppers, strawberries, asparagus, tomatoes, pumpkin, onion, eggplant, cauliflower, cabbage, beets
Vitamin E: Antioxidant, formation of blood vessels and immune function. Found in: Spinach, broccoli, kale, asparagus, squash, pumpkin, peppers
Vitamin K: Blood clotting and strong bones. Found in: Spinach, broccoli, kale, asparagus, tomatoes, cauliflower, cabbage
Biotin: aids in energy storage & metabolism. Found in: Cauliflower
Folic Acid: aids in protein metabolism, preventing birth defects and red blood cell formation. Found in: Asparagus, beans, peas, tomatoes, radishes, peppers, onion, cauliflower, beets
Niacin: helps convert food into energy, aids in digestion and helps with nervous system functioning. Found in: Beans, radishes
Pantothenic Acid: aids in metabolism, hormone production, nervous system function and red blood cell formation. Found in: Broccoli, beans, peas, cauliflower
Riboflavin: conversion of food into energy, red blood cell formation and growth and development. Found in: Spinach, pumpkin
Thiamin: Conversion of food into energy and nervous system function. Found in: Beans, peas, pumpkin
Calcium: blood clotting, bone and teeth formation, hormone secretion, muscle contraction, and nervous system function. Found in: Spinach, broccoli, kale, lettuce
Chloride: Acid/base balance, conversion of food to energy. Digestion, fluid balance and nervous system function. Found in: Lettuce, tomatoes
Chromium: insulin function, macronutrient metabolism. Found in: Broccoli, apple
Iron: Energy production, growth and development, immune function, red blood cell formation, reproduction and wound healing. Found in: Beans, peas, spinach, broccoli, kale, beets
Magnesium: blood pressure regulation, blood sugar regulation, bone formation, energy production, hormone secretion, immune function, hormone secretion, immune function, normal heart rhythm, protein formation. Found in: Beans, peas, spinach, broccoli, kale, pumpkin seeds, lettuce
Manganese: Macronutrient metabolism, cartilage and bone formation, wound healing. Found in: Beans, spinach, squash, pumpkin, beets
Potassium: blood pressure regulation, carbohydrate metabolism, fluid balance, growth and development, heart function, muscle contraction, nervous system function, protein formation. Found in: Spinach, beets, beet greens, tomatoes, radishes, squash, pumpkin, peppers, lettuce, eggplant, cucumber, carrots
Zinc: growth and development, immune function, nervous system function, protein formation, reproduction, taste and smell and wound healing. Found in: Beans, peas
Authored by: Gigi Ravenhall, Registered Dietitian at Long Island Laparoscopic Surgery
Planting Guide from Cornell Cooperative Extension:
https://s3.amazonaws.com/assets.cce.cornell.edu/attachments/11705/Vegetable_Planting_Times_Guidelines_for_LI.pdf?1446826465