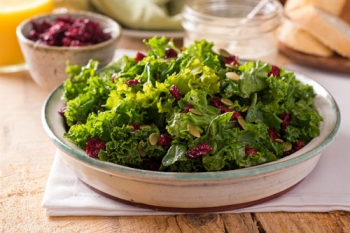 Serving Size: 8
Ingredients
1/2 cup thinly sliced red onion
1/4 cup cranberries
1 orange
1 tablespoons red wine vinegar
1 teaspoons honey
4 tablespoons extra-virgin olive oil
4 cups baby kale, washed
¼ cup walnuts, chopped
Instructions
Using a sharp knife, place orange on it's end and carefully cut the skin off.
Cut out orange segments and place in a large salad bowl.
Into a smaller bowl, squeeze out what is left of the orange once segments have been removed. This should be about 1 tablespoon of juice.
Whisk in red wine vinegar, honey, and olive oil.
Stir in cranberries. Let this sit for a few minutes so the cranberries can soak up extra flavor.
Place baby kale, sliced onions and walnuts in the salad bowl with the orange slices.
Pour vinaigrette with cranberries over kale mixture and toss until fully coated with dressing.
How to cut segments from an orange: www.youtube.com/watch?v=mKPGFOg3xOs
Nutrition: 1 serving = 123 calories, 2g fiber, 8.7g carb, 9.6g fat, 2.7g protein