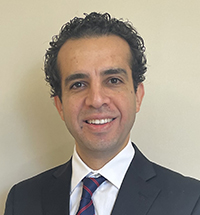 Advanced MIS/Bariatric and Robotic Surgery Fellow
Dr. Sbeih is board-certified in general surgery, a diplomate of the American Board of Surgery, and a fellow of the American College of Surgeons. He received his medical degree from the University of Jordan in 2010. Dr. Sbeih completed a postdoctoral research fellowship in minimally invasive surgery at Massachusetts General Hospital, Harvard Medical School in Boston at the Natural Orifice Transluminal Endoscopic Surgery (NOTES) Lab in 2012. He completed his general surgery residency training at Columbia University, Harlem Hospital Center Program in New York City (2017).
Dr. Sbeih joined the team at Long Island Laparoscopic Surgery in August of 2023 as a fellow through the Fellowship Council matching process. He joined the team from University of Pittsburgh Medical Center in Pennsylvania where he practiced as a general surgeon and accepted an academic appointment of Clinical Assistant Professor of Surgery, he also served as an Adjunct Assistant Professor of Surgery at Lake Erie School of Osteopathic Medicine (LECOM).
Dr. Sbeih has medical publications in multiple medical journals. He is a member of the Society of American Gastrointestinal and Endoscopic Surgeons, the American Medical Association, and the Eastern Long Island Chapter of the American College of Surgeons. Dr. Sbeih's clinical interests include robotic weight loss surgery, minimally invasive gastrointestinal and colon surgeries, abdominal wall hernia surgery, treating gallbladder diseases, and endoscopy. He also performs colonoscopy.