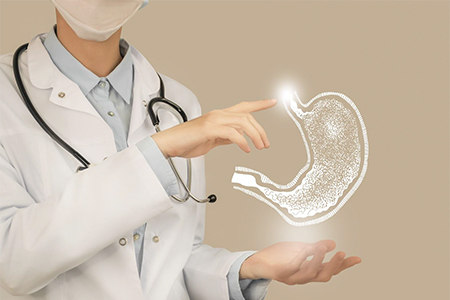 Acid reflux is a common discomfort, but when it becomes persistent and inhibits your day-to-day life, surgery may be recommended. Laparoscopic and robotic fundoplication is a surgical procedure to prevent acid reflux by tightening the junction between the esophagus and stomach. During this procedure, the upper stomach is wrapped around the lower esophageal sphincter. In doing this, the junction is strengthened and stomach contents cannot easily re-enter the esophagus. Laparoscopic and robotic fundoplication surgery is minimally invasive and has high success rates for relieving persistent acid reflux.
As with any surgery, post-operative care is important to ensure a full and healthy recovery. Immediately following surgery, your vitals will be monitored as you wake up from anesthesia. The typical hospitalization time following this surgery is two days.
After your release from the hospital, your surgeon will likely recommend the following practices during your recovery:
Drink plenty of liquids and adhere to the post surgery diet discussed with your surgeon and Registered Dietitian.
Avoid heavy lifting that puts stress on the abdomen.
Keep the incision area clean and dry ensuring to not remove the dressing for the first two days.
Avoid showering or bathing during the first few days to avoid infection at the incision site.
Avoid smoking and drinking during recovery.
With laparoscopic or robotic fundoplication, you will likely be able to return to a normal routine within 2-3 weeks. This is much more desirable than open surgery where a return to normal typically will take up to 4-6 weeks.
Strict adherence to your physician's medical advice during the healing process is vital for proper recovery. If you are considering fundoplication surgery or have questions about what to expect during the recovery, contact Dr. Ahmad for a consultation today!