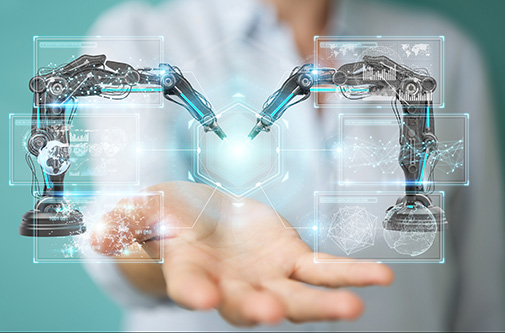 Robotic surgery is a form of laparoscopic or minimally invasive surgery in which a computer-controlled robot assists your surgeon during the procedure. Robotic surgery enhances the accuracy and precision of surgical procedures.Surgery is performed by a specially trained and experienced surgeon using advanced robotic arms that provides visual,auditory, and haptic feedback. The surgeon controls the robotic arm and can make changes based on real-time feedback.
The robot provides your surgeon with an increased dexterity level and allows them to operate in small spaces inside your body that would otherwise require open surgery.Compared to traditional open surgery, robotic surgery results in smaller incisions, which reduce pain and scarring, leading to less time spent in the hospital and quicker recovery times.
Benefits of having robotic surgery:
Accurate visibility of surgical area using miniaturized cameras, which provide real-time video images to the surgeon
Greater precision as your surgeon operates using robotic instruments preserving sensitive organs and tissue
Fewer complaints of pain and complications reported using robotics in surgery
Less risk of infection and blood loss as the incisions are smaller and offer quicker healing times
Surgery performed through small incisions, which results in smaller scar formation
Faster recovery and return to routine activities of daily living
Better clinical outcomes
Better safety as the robotic arm does not allow movement of the cutting instruments outside of the safety zone
Your surgeon also dramatically benefits from robotic surgery, gaining enhanced precision,flexibility, control, and vision. Robotics allows your surgeon to perform very delicate or complex surgical procedures that may have been very difficult or even impossible without the surgical robot's aid.
Dr. Arif Ahmad specializes in laparoscopic robotic surgery and has performed over 2,000laparoscopic robotic surgeries. He is renowned in the Long Island area for his impeccable track record of safety and success.