Long Island Laparoscopic Surgery, PLLC
631-689-0220
www.drahmadmd.com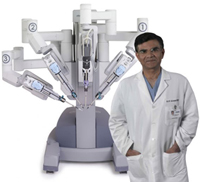 Dr. Ahmad has recently performed his 100th Robotic Assisted Gastric Bypass! He was the first surgeon in the area to use the daVinci robotic system to perform a bariatric procedure. He is currently looking to expand his use of this advanced surgical system to treat hiatal hernias and perform single incision laparoscopic cholecystectomies. Dr. Ahmad has completed training as a Console Surgeon, using the daVinci Surgical System and EndoWrist Instruments, as well as a daVinci Single-Site Training program. By offering this option, he is able to offer patients significantly less pain, less blood loss, less scarring, a shorter hospital stay and a faster return to normal activities.
To learn more about the Robotic Assisted Surgery Dr Ahmad performs, visit http://www.drahmadmd.com/robotic-assisted-gastric-bypass.html.
If you have tried and failed to lose weight through traditional methods, such as diet and exercise, bariatric surgery may be right for you. To learn more about the procedures Dr. Ahmad performs and what our program has to offer, call the office at 631-689-0220 or go to http://www.drahmadmd.com/seminars.html to sign up for one of our free informational seminars.
A new you can't wait to emerge!