Our Patients
* Your weight loss results may vary. All surgical procedures present risks.
Melissa
Maureen
Janet
Claudia
Cem
Richard
Suzanne
I decided to get the surgery because everyday life became very difficult for me. I was severely out of shape and lacked the knowledge to change. With the help of Dr. Ahmad and his staff, I was able to change my lifestyle before the surgery and maintain it after. – Derrick W.
If I'm being completely honest, my son is getting older, and I am already the "old" mom of the group (50 with a 9 yo), I didn't want to be the fat mom as well. Making that first appointment was the hardest step, but Dr. Ahmad's team literally took care of everything! They just told me where to be and when and what to do. The process went so smoothly and quickly that I never even got a chance to get cold feet, and before I knew it, I was in pre-op! I'm down 105 lbs now and will be scheduling my skin removal very soon, the difference in the way I feel physically and emotionally is indescribable. My knees do not hurt, I run 3 miles - 6 days a week - because I can. I have energy to keep up with my family and friends, it was life changing. I walk into a room with confidence now, it's amazing. – Jennifer G.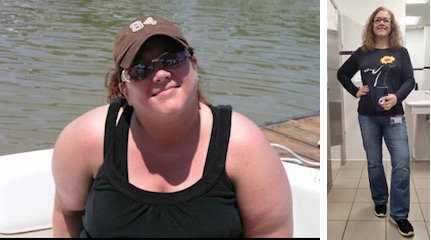 This what I can say about my experiences with bariatric surgery and Dr. Ahmad. I finally made the decision to take charge and make a change in my life after years of failed diets and re-gain. I did a lot of research and found Dr.Ahmad. I attended one of his seminars, and made my appointments to begin this journey. I felt he and his team provided all the support I could need with appointments, information and the nutritionists. I felt confident and safe to make this leap and have lost a total of 140 lbs after my sleeve in 2016 and revision to bypass in 2022. I am able to live a healthy life and be physically available to my toddler which I am most thankful for. This was was the best decision. I am so thankful for Dr.Ahmad. – Ana C.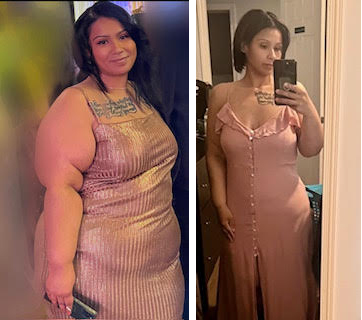 I used to weigh 307 pounds in March of 2022, I now weight 200 pounds as of May 2023. I had my procedure with Dr. Anoosh at Dr. Ahmad's office in June of 2022. I met Dr. Ahmad and Dr. Arghwala for my first consultation and they were very knowledgeable of the procedure and understanding about my situation. Since I've had the procedure, I have recommended about 5 of my friends and family members to Dr. Ahmad and of those 5 people, 3 of them have gotten the procedure done with this office! You guys are great at what you do, so helpful. Thank you. – Mariely E.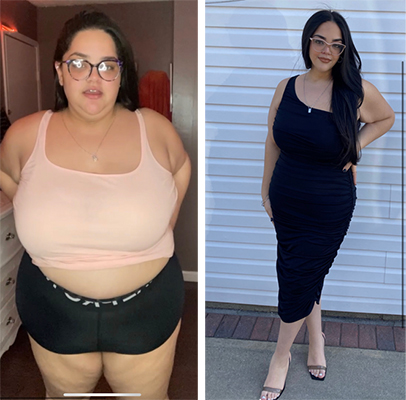 Making the decision to have surgery did not come lightly, but I have to say it was the BEST decision of my life! I made the decision to have surgery when nothing else was working and my health was declining, and the pain I was in made it so working out was not an option. I made my appointment with Dr.Ahmad's office and I left the office with a tentative surgery date (that ended up being my actual date!) I am so happy with the surgery and now I am going to the gym 4-5 days a week! I love this tool!! – Alyssa W.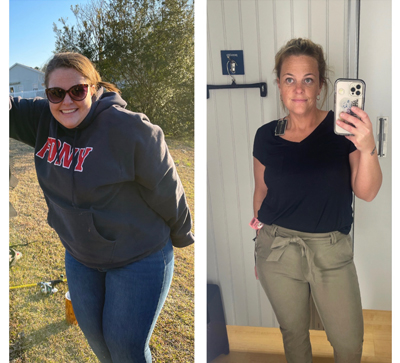 I had surgery by Dr. Ahmad about three years ago and it was extremely successful. I've lost over 170 pounds and counting. I'd love to help somebody else by sharing my before and after photos. I've gotten back my feeling of confidence and self-worth! It has been amazing! Thank you all so very much! – LaurieAnne P.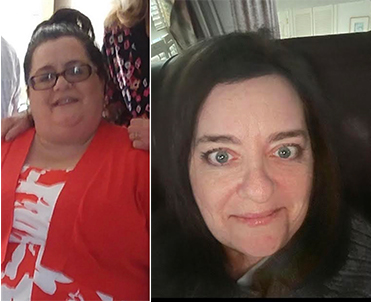 DR Ahmad is by far the best I have encountered. When dealing with weight loss surgeries. I'm recommending his office to everyone I talk to about the procedure I had ( gastric sleeve). – Jerry R.
I had a great experience with Dr Ahmads group of doctors, office staff and my experience with the procedure. – William B.
I absolutely LOVE Dr Ahmad!! I can't say enough good things about him and his team. They were professional and kind from the word GO. They made me more educated and at ease with each visit. They honestly made me feel they were taking the journey with me. My surgery went great, they made me feel like a princess during my hospital stay. And they're still with me after my surgery, which I didn't realize was when I would need them most.
If you're considering bariatric surgery, you won't do better than Dr Ahmad and his team. – Carolynn R.
From the moment you start your process, you feel that they actually care about your well being. The staff does everything possible to make sure that you have single thing you need to proceed with your decision and life changing decision. The doctors awesome of the most knowledgeable when it comes to any questions you will have, and support you every step of the way. The pre and post care that is given is wonderful, with the most polite staff you will ever meet. Your results will absolutely be felt and seen, by the person most important, and that's YOU! I promise that. it's worth it. – Terri B.
There really aren't enough good things I could say about Dr. Ahmad and his team. Due to my insurance I had a 6 month mandatory wait before my surgery. Dr. Ahmad and his team were on point for every appointment. I finally had my surgery last Wednesday and I couldn't have been happier! From making me feel comfortable during pre op, to the actual surgery and then his nurses, cnas and post op medical team- AMAZING! You really can't do any better than Dr. Ahmad and his team. I drove all the way from Wantagh to Port Jeff just to get my surgery and be treated by him, and I don't have any regrets. Thank you Dr. Ahmad + staff!! – Jocelyn R.
I had a great experience from the very beginning. Everyone in the practice is nice, helpful and explained everything in detail. I was nervous at first but they put my mind at ease. It was a very smooth process for me. I had hardly no pain and recovered quickly. Dr. Ahmad has personally worked with me throughout the whole process and has been wonderful. All of the doctors have been great and all there to help – even a few times in the middle of the night!
It was a big decision that I'm so glad I made…I'm very happy with the outcome. I had my surgery a year ago and I've lost 75 lbs so far. Here is a picture of my year's progress…. – Stephanie C.
I had the bypass and a year later I'm down 110 pounds. I highly recommend Dr Ahmad and his team. If you want to lose weight once and for all do this. – Gerry S.
Fantastic. From beginning to "end" (though this is totally ongoing), Dr Ahmad and his staff have been the most knowledgeable, understanding, and determined to make me successful! I already recommend the practice to anyone inquiring about my bariatric surgery. They truly do their best to make sure each individual is healthy enough to undergo surgery, they check every possible indicator and go above and beyond. Thank you so much! – Jenny D.
My experience has been first rate from my first seminar visit and is still fantastic 4 months out of surgery. Down about 120 lbs since first visit. Feeling great. Thank you very much for my new life. Thank you also to the entire office staff for all there help. – Neil D.
I went to Dr. Ahmad because he was rated the best; after experiencing my procedure, I had the sleeve gastrectomy, I can see why he is rated so high. Dr. Ahmad takes a hands on approach toward his practice; he personally scrubs in on every procedure, and unlike a lot of condescending doctors he was always at my disposal for any questions that I had. His staff is second to none; every one is very courteous and attentive especially Dr. Ahmad's wife who would always put me at ease in the midst of any concerns that I had. I am two weeks post op, and 21 lbs. lighter. My journey toward a healthier lifestyle has begun thanks to Dr. Ahmad and his staff. – Bill D.
Hello, my hospital stay was fantastic, the staff did an excellent job in caring for me. I had difficulties with the stage 1 diet, the food gave me gas. Stage 2 is not much better, the protein shakes taste like evaporated milk and is making me feel like throwing up. I am hungry and I want to eat chewable food like grilled chicken and burgers. I know I need drink the shakes but it is difficult. – Sherry B.
Dr. Ahmad and his office are very professional and treat their patients with care and respect. Scheduling appointments is very easy and all staff are eager to help. They guide you through your experience with skill and ease. The nursing staff on the Bariatric Step Down Unit is unparalleled in kindness and expertise! Thank you so much. – Susan M.
I was very happy with the treatment Dr Ahmad gave me. I had the gastric bypass surgery done on 4-30-14 and there were no complications. Dr Ahmad was very open to the multitude of questions that my wife had all the way up to my surgery. She was very nervous and he went out of his way to make her feel better. He then made it a point to assure her while I was in recovery by both calling and when she was still nervous came down and talked to her. I would recommend Dr Ahmad to anyone wishing to get the bypass or sleeve. – Curtis D.
From the moment I made the decision to have the surgery I knew I wanted the best. My expierience was a good one. I would have liked a little more from the dietary personal. Recipes are crucial to a successful weight loss. Canned cream soup yuk. So I made my own. You need more than 2 pages of guidelines. I learned a lot. The staff is an asset. – Darleen G.
Dr. Ahmad and Dr. Agarwala repaired my complicated hernia. I cannot say enough about how wonderful the whole experience was for me. Their compassion and the level of unmatched expertise was above and beyond anything I could of have asked for. From beginning to end I was well informed of exactly what was going to be done during the surgery and during my recovery. I would highly recommend Dr. Ahmad and Dr. Agarwala as they brought great comfort and kept my family informed every step of the way. – Imran A.
Dr. Arif Ahmad and his team changed my life and brought me back to the person I was 20 years ago. While I was always a happy, confident women, as I got older the weight just continued to slowly creep up even though I ate fairly healthy and exercised regularly. If you are considering weight loss surgery, I highly recommend Dr. Ahmad and his team 100% professional and supportive. – Linda G.
Great surgeon. Very thorough. Very knowledgeable – Chris C.
My Name is Ted and I am writing a review under my sons screen name. I have a lap band since June 2007. The journey is difficult loosing over 100 lbs. The office staff, hospital, Linda from nutrition have all educated me the patient to become a success. It is difficult to take the 1st step,but Dr. Ahmads staff are there for you the Patient to succeed.
They also have a wonderful support system. It is hard work to both loose and to maintain the weight loss. I wish I had the nerve to get it done sooner. Now I have learned to enjoy what I eat. Many thanks to all.- Peter G.
Dri. Ahmad saved my life. Best decision I've made in my life. Every single health marker for me has improved. Blood Pressure, heart rate… everything. If you've made it this far, If you've even taken the step to read this. Keep walking. Follow up and do it. I had the Gastric Sleeve. I can eat anything, just not everything. I have real meals every day.
Just do it. He's the best at this in the area hands down. Stop waiting…your real happy life is on the other side of your fear.
Thank you Dr. Ahman, Sima and the staff. – Heywood O.
I had a great experience with Dr. Ahmad, his staff, and my procedure. They are careful and cautious, but also caring. I wish I had done this year's ago!! – Lesli F.
I had the gastric sleeve a week ago today and I couldn't be more thankful! While I was not prepared for the amount of pain I'd be in for a few short days after surgery, the results thus far have been SO worth it! It will require a huge life change, which some people must prepare for better than I think I did, but again, worth it! It has only been a week, and I have dropped around 25lbs. I had tried time and time again to do this on my own but suffice to say, couldn't. I had/have PCOS which makes it all the more difficult to lose weight on my own. This TOOL helped me put my body into my control again. Because of the PCOS I hadn't gotten my period in over a year, and I got it for the first time 2 days ago! I guess it's my body's way of saying "I'm back in business"! Thank you Dr. Ahmad & Dr. Agarwala. Thank you thank you thank you – Elana G.
Dr Ahmad,s Staff, (hospital, office,Linda from Nutrition, Annmarie all are a wonderful team! Dr. Ahmad doesn't threaten anyone At all . I had my band installed 6/2008 and lost over 100 lbs, and kept the weight off. I have learnd to eat healthy and to enjoy what I eat. Yes, I had a difficult Journey proir to the weight loss surgery by having 27 tia strokes, and emergency gall bladder surgery the year before The lap band. I have nothing but positive things to say . Dr. Ahmad and all the staff are caring peolple that also decided to improve there lifestyles. They work for you the Patient and assist you with everything for you and you family. Others share that in support.
Yes my journey is tough, but in order to succeed you must make peace within your own being and both listen to what is being said to you, and most of all you must apply the effort to succeed. I am so grateful for the bedside manner that made me feel like a king during the hospital stay. All the foolowup visits after the operation is just as important to all. If anyone wrote a bad review it is there own fault by not listening and or be willing to apply the effort. I just wish I had the courage to have the operation sooner! – Theodore G.
Today is my one year anniversary of having by-pass surgery it was the best decision I ever made. I had tried in the past with other Providers but none made me feel at ease and able to trust. Dr. Ahmad and his team are fantastic, they are always there for their patients. Their support groups are amazing, and the support they give us on a daily basis is unheard of by those I know who had this procedure done other places. Thank you Dr. Ahmad for saving my life this morning my scale said 115lb, one year ago it said 210lbs to be able to look at myself in the mirror and love who I see I owe it all to you and your team. – Kathy F.
Amazing!! I can't say enough great things about this office. The doctors and staff are wonderful and I'm so happy I chose them for my bypass. No complications at all, everything went totally smooth and I received the best post op care. I highly recommend. – Jeanine F.
Dr Ahmad and his staff are the greatest. I can not thank them enough for everything they do. If I could add more star to rate them I would , they all go above and beyond for all their patents, thank you, thank you – Mary L.
I have had a great experience this far! I am now 3 weeks post-op…
– Tiffany L.
I am 1 yr and 4 months post op from having sleeve gastrectomy. It was only after 3 seminars and consults with those doctors that I met with Dr. Ahmad. That is when I new I wanted to have the surgery. Dr. Ahmad and his staff are amazing they have changed my life. Dr. Ahmad is so compassionate and sincere with what he does. He is an incredible Dr. and person. I have lost 90 pounds and gone from a size 24/26 to a size 12/14. I am an new woman with a new life and future thanks to Dr. Ahmads before, during and after care. Thanks to you all. I love you guys!
– Dawn P.
I had my surgery Feb 27, 2014. Dr. Ahmad and his Staff are just Awesome! The care and the treatment there… The program is well thought out, your treated with respect and kindness. Dr. Ahmad and his staff are just amazing and if you do your part and follow the program, it works. They have a Great support team that you can lean on. Thank you Dr. Ahmad and staff for helping change my life. I feel Great!!!
– Lisa M.
I had bypass surgery on 9/11. I was 308 lbs. I am now down to 236 so far. Maybe another 20-25 to go would be nice. – Kenneth S.
Thank you Dr. Ahmad & Dr. Agarwala for helping me get my life back! My band to sleeve revision was done Thursday the 8th.. Can't wait to start feeling like myself and continue on this new journey! – Caitlyn S.
Thank you Dr. Ahmad & Dr. Agarwala for helping me get my life back! My band to sleeve revision was done Thursday the 8th.. Can't wait to start feeling like myself and continue on this new journey! – Caitlyn S.
I just recently got the gastric lap band on December 5th and so far so good! The weight is slowly starting to come off. My skin is so clear and I feel healthier and more energetic. I can't wait to see the final results! Thank you Dr. Ahmad and staff ! – Ashley D.
Had the sleeve then the bypass 2 yrs later. Im now down 95lbs. Love the office staff and doctors. Dr Ahmad gave me my life and health back. Thank you. – Josette J.
I met Dr. Ahmad on 7/29/2013 after attending a seminar at Mather. I had a VSG on 11/20/2013. I lost 37 lbs. in preparation for the surgery, and have lost 53.6 since then (that's 90.6 lbs. in just 6 months)! Dr. Ahmad, Dr. Agarwala, and the whole team at Long Island Laparoscopic are the best! – Gary G.
He performed surgery on my friend Nelida and her transformation was incredible. Gave her the strength and confidence she needed to truly bring out the real her. Thank you for the new life you have given to my friend. – Laura V.
I had my surgery 3/13/13 and to this date have lost over 230 lbs. best decision I have ever made. Dr Ahmad and all his staff are amazing, they saved my life. – John L.
If I could give 10 stars I would! Best Decision Of My Life I was 328lbs now im 195 and fit into 36 inch waist on my jeans! I Had the Gastric Bypass! From day one they were awsome! – Gary W.
I love the new me. Thank you to Dr Ahmad and his team! – Madeline A.
I had my sleeve done Dec 5th 2013. This wonderful team changed my life. I feel like i have my own cheerleaders and they are there to help me whenever i need them. – Lindsay G.
Dr Ahmad, and his team are the best, they truly care about your health and success. They change my life. – Anthony S.
Had my surgery in 2007 and lost 120lbs I thank Dr.Ahmad for changing my life for the better will forever be greatful!!! – Kareen C.
Had my lapband to RNY bypass surgery in August 3, 2015. Once again with the best doctor Dr Arif Ahmad. – Jacqueline F.
I had my surgery on 7/15/2014. As of march, I have lost over 120 lbs. Its changed my life. – Ronald G.
Great Doctor – Michael C.
After attending a seminar and listening to Dr. Ahmad, I decided to have a gastric bypass. For the first time, I heard someone tell me that at this stage, it was indeed impossible for me to loose weight through diet, and that I needed an intervention. I could stop feeling like a failure, and do something that could and would work. I did my homework and knew that Dr. Ahamad was the best in this field; he even convinced my oldest daughter, and let me tell you, that is quite a feat. I am very afraid of anything surgical, and I had more that my share of anxiety. But the kindness of Drs Ahamad and Argawala and the entire staff helped me through. I had the surgery 1 month ago today, and after weighing myself yesterday, I did a little dance around my house. I have lost 25 lbs in 4 weeks *, and I have not been hungry at all. I have followed the diet, followed the rules, and I have had no problems, it has been absolutely great. Any discomfort in the beginning was so worth it. I definitely would have had a short life if I stayed obese and the list of life-threatening diseases would have gotten longer; now, I feel reborn. I look forward to my new life. The best is yet to come. My daughters are thrilled and amazed at my progress. and NEVER NEVER would I have done this if I had not met Dr. Ahmad and his team. To his wife who visited me in the hospital and to the wonderful staff on the bariatric hospital floor, to Lisa in Nutrition, thank you a million times. – Odette L – vitals.com review
My experience with Dr. Ahmad was that he was caring and interested in my personal goals both before & after surgery. The entire experience with the gastric by-pass proved to be exceptionally beyond my expectations. I lost 100lbs * , no longer needed any medications for the various medical * issues & I am healthier then I have ever been. I highly recommend Dr. Ahmad and his team for bariatric surgery He is the best in this field!! – Diane S.P – vitals.com review
March 20,2013 was the first day of the rest of my life began as a newer me. Thanks to Dr. Ahmad and his staff I have now lost 105 lbs 7 months * . Looking at the pictures of me before surgery were really surprising to me I knew I was heavy at 300 lbs but I never thought I looked the part. As the saying goes pictures don't lie and wow I'm really shocked looking at the differences so far. If you're on the fence about the surgery "get off and do it" the procedure was uneventful and the new style of living is grand. – Charles W.
Dr. Ahmad has changed my life. I had been to 3 seminars including Dr. Ahmads. After each seminar I consulted with the surgeon from the seminar. I never really felt ready to go ahead and say yes to the surgery until i met with Dr. AhmadAnd his wife. The staff is great. Knowledgeable, friendly, professional, understanding and just amazing. All of them. I battled obesity all my life wnd started my first diet in 6th grade. Since meeting with Dr. Ahamd from my first consult to the actual surgery date of 8/30/12, I have lost 90 pounds * and went from a size 26/28 to a size 12 * . amazing. He has such a passion and love for what he does and for his patients. He is an amazing Surgeon and human being. A wonderful staff and support system are available anytime. The stay at Mather Hospital was wonderful too. The staff is incredible there. Thank you to Dr. Ahmad and his wife for everything. I could write a book on all the possitive I have to say about them and their staff. I love you guys. Thanks for making A dream come true at 46 I feel and look better than ever! – Dawn P. – vitals.com review
On October 1st 2012 I had gastric bypass with Dr. Ahmad and he changed my life. To date I have lost 178 lbs * . I went from a 54″ waist to a 34″ * I'm able to walk more than a block now and I goto the gym seven days a week. Dr. Ahmad and his whole staff truly care about his patients and he's always reachable when I need him. –Tony S. – vitals.com review
Five years ago I was blessed with the option to have lap band surgery! 167 pounds lost * and I wouldn't change it for anything feeling great! To an amazing doctor and staff you are all one of a kind! – Kim D.
While driving in the car today Jake and I had a great conversation…Jake – "Daddy I saw an old picture of you on dad's phone and your arm was really big" Me – "Just my arm Jake?" Jake – "no all of you, you were fat" Me – "I was, so what am I now Jake?" Jake – "you are skinny" Me – "is that how you see me now?" Jake – Yes!" That's because you ate too much right Daddy? Me – "yes Jake you are right, Do you remember Daddy being that fat?" Jake – "no I don't " Jake – "so all that had to do is put 5 holes in you and let out all the air out and now you are skinny?" Me – "Yes Jake it was just that easy" (I wish it was)…out of the mouths of babes. Right after my surgery my doctor told me "Isn't it great that your kids will only remember you as being skinny? I didn't believe my doctor at that time, but I guess I was wrong. I love my "Little Men" and today they made it perfectly clear to me that I did the right thing. Thank you doc! I was born in Mather Hospital twice…The first time on October 26, 1967 and then once again on June 04, 2012. I love myself and even more I love my family. – John C. *
Had my surgery in 2007 and lost 120lbs * I thank Dr.Ahmad for changing my life for the better will forever be grateful!!! – Karen C.
Dr. Ahmad and his team, performed the gastric bypass on me May 2011. The best decision I ever made. A side note, I had attended a few surgeons seminars and found Dr. Ahmad's the most informative and was able to see his passion for the work. God bless his team and the work they do. – Donna R.
Dr. Ahmad has changed my life in an amazing way. I had gastric bypass 6/7/2011 and have lost 125 lbs. in 18 months * . With the weight loss i found a 10 cm benign tumor in my breast and had a mascectomy and now I'm perfectly healthy. His staff is so kind and caring and will help you get over the mountains in your new journey in life. Dr. Ahmad is the god of bariatric surgery. I recommend him to EVERYONE with a weight problem looking to make a change in their life. – Marette K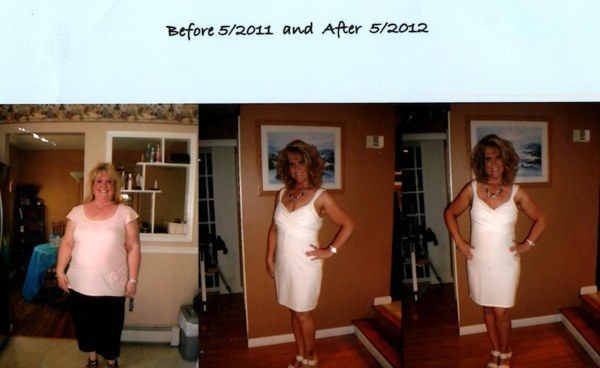 Click here to read Patient Tesitmonials on ObesityHelp.com »
My Moment of Truth – Is the LAP-BAND® System Right for Me?
Dr. Ahmad, a pioneer in minimally invasive laparoscopic surgery, is the first bariatric surgeon in Suffolk County to use the advanced da Vinci robotic system to perform the bariatric procedure.
Dear Dr Ahmad and Dr Argawala.. I just have to say thank you from the bottom of my heart for giving me my life back. I went from a tight 24 to a size 12*.. I finally bought some clothes from the junior department. I am chasing around my 7 yr old son with pride and joy.. My energy level has soared.. I am healthy and very happy.. With all my love Christine xoxo – Christine B
If you are considering weight loss surgery Dr ahmad and his team are the best around. Everyone in the office is amazing and willing to help you with every aspect of the surgery. They make sure you are ready for the surgery and continue to support you. I had my surgery on 8/15/2011 and it was the best thing I could ever have done. I started out at 355 I'm down to 318.4 * . You will not find a better or more caring team of wonderful people to have your surgery with -Michael F
After attending Doctor Ahmads weight loss seminar i knew i would like him to preform my Laproscopic gastric bypass surgery. I felt completely safe and Confident with doctor Ahmad. I had my Sugery on July 20, 2011 And I'm losing weight and feeling great. -Colleen H *
I had my surgery on July 27 2011. I feel better than I have in years Dr. Ahmad and his staff walked me through every step of this process. Dr Ahmad instilled confidence in me and gave me the information I needed to make this life enhancing decision. I love Dr. Ahmad and his staff. -Alice H *
I got my life back. Before gastric bypass surgery, I barely had the energy to even sit with my little girl. Now, we play soccer together! * I really enjoy my life and my family. Thank you, Dr. Ahmad and the wonderful team" -Cem
There are so many things in life to enjoy. I learned to scuba dive, I went zip lining, I ride my bicycle everywhere. I feel like I'm free- free to enjoy life. The only regret I have is I didn't do it sooner." Richard, Manorville, lost 226 pounds. -Richard *
Success Stories
Monica
Surgery Date: March 2014
Weight Lost: 143 lbs.
Procedure: Virtually Scar-less, Minimally Invasive, Laparoscopic Sleeve Gastrectomy by Dr. Arif Ahmad.
Monica is the living embodiment of before-and-after.
"My life before the surgery was boring, uneventful and like a prison… After the surgery I have to say I feel blessed, excited and fortunate. I feel like I was trapped in somebody else's body. I had this spirit that just wanted to get out and do things and be fun. My weight hindered me from doing that. My kids didn't really get a true sense of who their mother was because they always knew me as a heavy mom. Being heavy is not just an aesthetic thing, it's something that affects your mind and your spirit. I didn't want to have people perceive me as this fat, overweight, lazy person – because I'm not – but in essence that's what happens."
Anthony
Surgery date: October 2012
Weight lost: 175 pounds
Procedure: Virtually Scar-less & Minimally Invasive, Laparoscopic Gastric Bypass, by Dr. Arif Ahmad

"I just felt terrible, it was getting worse and worse, I was really obese and it affected my sleep at night. I went to my medical doctor and he actually told me bluntly – he shocked me – you're going to die soon if you keep this up. You know you're going to get diabetes. You're going to get a heart attack. I developed a personal connection with Dr. Ahmad and the team. — I just felt very comfortable and I couldn't wait to start the operation. When I had the operation, the hospital treated me like I was a VIP. Now I'm one of the people that goes tells somebody else, 'hey, you go there, you're going to be treated right!"
Kelly
Surgery date: February 2010
Weight lost: 165 pounds
Procedure: Virtually Scar-less & Minimally Invasive Laparoscopic Gastric Bypass, by Dr. Arif Ahmad.
"My whole life started over for me after surgery, it was a new beginning, a new time to focus on myself, on my goals, on my marriage, on my career and really to just be happy – and that has been the best gift I've ever received. I'm not Kelly who was really fat before. I'm not Kelly who had weight loss surgery. I'm just Kelly. And that is awesome. When I went into Dr. Ahmad's office for the first time and met his support staff, they were so wonderful. Once you become a patient at Dr. Ahmad's office, you truly become family. Their staff is absolutely amazing. They will give and give and give anything that you could possibly need from them. I know them by their first name, they know me by my first name. That to me is something that is priceless in this day and age."
MaryLouise & Lee
"I'm always moving now, I have a very physical job and I used to try and sit in the office as much as I could. But now I'm out on the sales floor doing a lot more. Some of my coworkers even said, 'do you ever stop?' And I don't stop anymore. I just keep going. I have all the energy that I had when I was younger. — I can't say enough good things about the surgery and about Dr. Ahmad and his staff" – MaryLouise

"I heard weight loss surgery would eliminate my diabetes… We wouldn't have gone any place else to have that surgery. It is like have an extended family now – and they're all there to help us." — Lee

* Your weight loss results may vary. All surgical procedures present risks.
Patient Testimonials
Patient Testimonial – Hiatal Hernia
Patient Testimonial – Melissa
Patient Testimonial – Richard
Patient Testimonial – Suzanne
Patient Testimonial – Cem
Patient Testimonial – Maureen
Patient Testimonial – Janet
Patient Testimonial – Claudia
Write a review
If you're interested in submitting a testimonial for Arif Ahmad MD, FRCS, FACS, please use the form below to do so.
Thanks!
Fields marked (*) are required