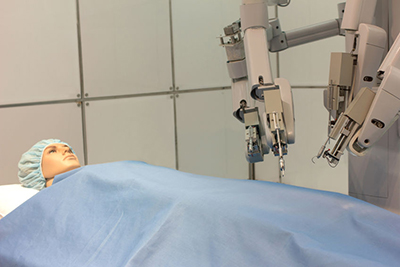 Problems with obesity will mess up a person's entire mindset in approaching daily activities. Constantly worrying about our physical appearance makes it more difficult to feel good about ourselves. This is why investing in a good robotic surgeon is one of the best ways to begin your journey away from this haunting lifestyle.
Are you ready for the best robotic surgery in Long Island NY? Doctor Arif Ahmad combines the latest cutting-edge surgical technology with proven scientific practices that makes the recovery stage much faster than expected.
The Real Essence of Robotic Surgery
Due to its name, most people have the misconception that robotic surgery is performed by a machinery. One thing you have to know from the get-go is that this procedure will still involve a human surgeon. However, tools and certain parts of the surgery are made better with the help of high-end surgical instruments.
This highly innovative surgery is being favored by most for its minimally invasive experience. Robotic surgeons use very small surgical instruments that turn supposedly large incisions into a quarter of an inch. Thanks to the da Vinci Surgical System, robotic surgeons are equipped with the most advanced surgical machinery to conquer the most delicate operations.
By attaching the miniaturized instruments to three of its four arms, the entire machinery is able to move and operate with ultimate precision. The fourth arm contains a magnified high-definition 3D camera that guides the robotic surgeon during the entire process.
How Robotic Surgery Works
Again, the robot does not perform the surgical procedure as most people think. It is rather the surgeon who controls the robot and uses it as extensions of his arms and hands. He controls the instruments mounted on the arms of the robot from a console situated inside the operating room. Using master controls, the robotic surgeon is able to operate the four arms of the da Vinci robot.
A high-definition stereoscopic monitor will then help the robotic surgeon to navigate his/her way inside of the patient's system. With the help of this machine's highly detailed 3D view, the surgical site is made crystal clear to the human eye.
Each movement of the robotic surgeon with the master controls is simulated precisely by the robot. If need be, he can change the scale of the robot's movement. He can select a three-to-one scale, the tip of the arms of the robot will move just one inch every three inches the surgeon's hand moves.
The Robotic Surgical System allows the surgeons vision and hands to be perfectly aligned at all times to his view of the surgical site; thus lessening fatigue.
The ultimate goal of the da Vinci Robotic Surgical System is to provide the best robotic surgery possible. It grants the surgeon unmatched control in a minimally invasive environment. As robotic surgeons would say, "It seems that our bodies are miniaturized so we could go inside the body of the patient."
Why Should I Go For The Best Robotic Surgery Available
Using this advanced technology in surgical procedures, surgeons can now perform a wide range of operations such as cardiothoracic, gynecological, urological, bariatric, and general surgical procedures.
Since these surgical procedures are performed with very tiny incisions, patients can experience some benefits compared to open surgery. However, by going with the best robotic surgery, one should expect
Fewer and smaller keyhole incisions on the body that results to less trauma and minimal scarring.
Minimally invasive procedure resulting in less blood loss.
Less complications. The risk of complication after robotic surgery is lower.
Shorter admission time. Because it is a minimally invasive procedures, the patient recovers faster and may enjoy a shorter hospital stay after surgery.
Lower risk of infections. Because the incisions are very tiny, the risk of infection is very slim.
Exceptionally better clinical results.
When Should I Opt for Robotic Bariatric Surgery?
Generally, everyone in need of surgical procedure can be a candidate for robotic surgery. Robotic surgeons will perform the surgery through a minimally invasive approach. There are only rare occasions when the best robotic surgery is not feasible, such as:
Individuals with prior history of radical prostate surgery cannot be candidates for robotic repair of groin hernias
People with excessive intra-abdominal scar tissue from multiple operations.
If you are suffering from obesity with 100 pounds over your ideal body weight and you have tried to lose weight through conventional methods and still failed, give thsi rob you can definitely reap a lot of benefits from robotic
5 Things to Look for When Choosing a Robotic Surgeon
Once you have chosen to undergo this wonderful bariatric surgery, the only challenge left is to find the best robotic surgeon near you. Robotic surgeons possess different levels of results, qualifications, training, experience, services and practice set up. It is very important to know all these qualities since they will greatly affect the result of your surgery.
Real and Tangible Results
Consistent successful results is an important quality of a great surgeon. You need to know if a particular surgeon generally has positive results from the surgical procedures that he has performed. You have to know how often does complications, like infections or gastrointestinal leak has occurred after his performance of procedures. Does he keep a clinical record on the conditions of his patients 2 or 3 years after surgery? With a significant number of successful results, you are assured that you are in good hands.
Qualifications and Trainings
If you have chosen to undergo minimally invasive procedure, you should know if the surgeon has undergone specific training in the da Vinci Robotic Surgical system at an accredited fellowship program. The following are questions you need to ask a surgeon: