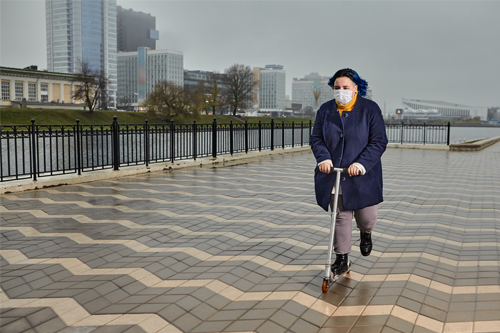 In the United States, people are particularly vulnerable to Coronavirus due to high obesity levels and the co-morbid conditions frequently associated with obesity such as hypertension, diabetes, and respiratory disease. Let's look at some reasons why obesity is a big risk factor for COVID-19 mortality.
On a microscopic level, the Coronavirus binds with special receptors (ACE2 receptors) which act as doorways allowing the virus entry into the body's cells. Fatty tissue has high levels of ACE2 receptors which can potentially worsen the damage and destruction caused by the virus. On a macroscopic level, extra fatty tissue around the chest and abdomen in obese individuals can make it harder to take deep breaths, which seems to be essential to maintain lung function while fighting off the COVID-19 infection.
Acute respiratory distress syndrome (ARDS) is a complication of severe obesity that can cause breathing problems and prevent seriously ill COVID-19 patients from getting respiratory support. Damage to the lungs can make it difficult for the heart to function properly leading to heart failure and other cardiorespiratory problems. Obese individuals who have diabetes may be prone to increased fluctuations of blood sugar levels from a COVID-19 infection causing diabetes-related health concerns.
It is well known that old age is the #1 risk factor for complications from COVID-19, but clearly people of any age group who are obese are also at high risk. If an obese individual does catch the Coronavirus, the course of the disease will likely be longer and more serious.
For obese or overweight individuals, now is the time to explore safe and healthy weight loss options while continuing to take all the precautions necessary to avoid getting infected by the Coronavirus.
Dr. Arif Ahmad specializes in the laparoscopic gastric bypass, lap band and sleeve gastrectomy. He is renowned in the Long Island area for his impeccable track record of safety and success. Dr Ahmad conducts patient education sessions every two weeks at Mather Hospital in Port Jefferson and in varying locations across Suffolk County. Please call 631-689-0220 if you wish to register or have other questions.