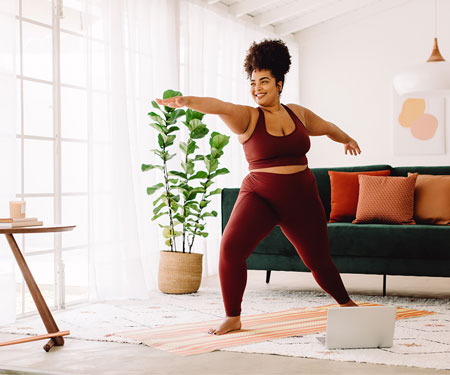 Starting anything new for the first time can be really hard, and even a little scary. Because of this, it's often a challenge to find motivation to begin something for the first time. We tend to always tell ourselves "I'll start tomorrow," or "I'll start next week," anything that gives us just a little more time before having to step out of our comfort zone. So how can we take that first step and find our motivation to begin, and continue, something new?
Start with small goals. Think about what it is that you want to accomplish, then start with small goals and build up to your ultimate goal. The department of health recommends 150 minutes of moderate aerobic activity, or 75 minutes of vigorous activity per week. If you have not exercised in a while, or ever, this might be a hefty goal to start off with. You may want to begin by setting goals of 5-10 minutes per day, 2-3 days per week and building up from there. And your goals don't always have to be focused on amount of time you'll spend exercising – maybe your goal is to be able to do a pushup, or perfect your form, or just get back into something you love! Remember, start with small goals and build up.
Reframe your thinking. Experts suggest it's helpful to try to visualize the benefits of your action. For example, if you're debating whether to go to a yoga class or not try to visualize the calm feeling and clear mind you will achieve after class. Or, how great it will feel when you accomplish a new pose. Then, take it a step further – try to identify what is holding you back. What's stopping you from getting in your car and going to class? Once you have identified your roadblock, try to come up with a game plan to make attending class easier for you (this plan could also be finding another form of movement that you enjoy more!).
Make it fun! Find activities that you enjoy and actually want to do. Explore different forms of movement, take different classes, try walking in different areas, see what speaks to you! If you are not enjoying it, move on and try something new. Moving your body shouldn't feel like a chore, make sure you find something that you look forward to and want to keep coming back for more!
Find your tribe. Research suggests that one of the biggest motivators of maintaining an exercise routine is a strong, supportive community. Consider first finding a form of movement that you love, rather than finding a community that loves it just as much as you do! You can also invite friends, family members, neighbors and more to join you on walks or doing whatever it is you choose to do. Make it enjoyable and know that you are not in this alone!
Reward yourself. The way you feel after you reach your goals can be a great reward on its own, and you can also use external rewards to motivate yourself as well! Maybe start by purchasing some new athletic clothes and shoes. As you reach new milestones throw in little rewards along the way – a new pair of leggings, a new water bottle, or even a membership to a new fitness studio!
Be flexible. Know that we all have busy days, and we all have off days. On the days where you just don't have the time, or your body is telling you it needs to rest learn to take that break. Be gentle with yourself and understand that it's okay (and essential!!) to take rest days, then continue to move forward. Don't get discouraged by "off" days, or days where you're not able to reach your goals – we all experience this! Make sure you continue to stay motivated, don't give up on yourself, and keep pressing forward.
Whenever you feel your motivation starting to wane think back to why you started. If you get bored, give yourself permission to explore new options and try new things so you can continue to move towards your goals. Most importantly, make sure you're having fun!