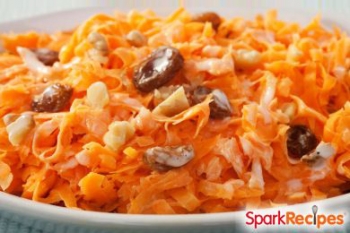 The following recipes are shared from SparkRecipes.
Carrot & Cranberry Salad
Minutes to Prepare: 10
Number of Servings: 4
Ingredients
1/4 cup dried cranberries, soaked in hot water for 10 minutes to plump

10 ounce package shredded carrots (about 4 cups)

2 navel oranges, zested, peeled and

fruit

segments removed.

2 teaspoons ginger, grated

3 tablespoons white wine vinegar


NOTE: use jarred ginger to save time
Directions
Instead of adding a sugary dressing, I chose sweet oranges for the base and a garnish of dried cranberries. This salad is better if prepared early in the morning or the night before. As it sits, the carrots soak up the dressing and added ginger. It gives the kids something to help with for Thanksgiving dinner.
Bring dried fruit back to life when using it in recipes. Chefs call it maceration. Simply place the dried fruit in a bowl and cover with hot water. Allow the fruit to soften in the water for 10 minutes. Drain the liquid and proceed with recipe.
—
Combine all ingredients in a large mixing bowl. Cover and refrigerate for at least an hour. Stir before serving.
Serves 4: one cup per serving
Source: http://recipes.sparkpeople.com/recipe-detail.asp?recipe=1824525
---
Low Fat Pumpkin Pie
Minutes to Prepare: 15
Minutes to Cook
: 50
Number of Servings: 8
Ingredients
1 (15-ounce) can pumpkin (about 2 cups)

1 (14-ounce) can fat free sweetened condensed milk

8 egg whites

1 teaspoon ground cinnamon

1/2 teaspoon ground ginger

1/2 teaspoon ground nutmeg

1/2 teaspoon salt

1 (9-inch) unbaked pie crust (choose low fat/lower calorie if u want, the nutrition above is full fat pie crust, if u get low fat/calorie, just lower it!)
Directions
Preheat oven to 425F.
Whisk pumpkin,condensed milk, egg whites, spices and salt in medium bowl until smooth.
Pour into crust. Bake 15 minutes.
Reduce oven temperature to 350F and continue baking 35 to 40 minutes or until knife inserted 1 inch from crust comes out clean. Cool. Garnish as desired. Store leftovers covered in refrigerator. (You may have enough to make 2 pies!)
Source: http://recipes.sparkpeople.com/recipe-detail.asp?recipe=209736
---
Bariatric friendly "Galabki"
Minutes to Prepare: 60
Minutes to Cook
: 45
Number of Servings: 15
Ingredients
1 large head of cabbage
2 teaspoons canola oil
1/2 cup onion, finely chopped
1 1/2 pounds extra lean ground beef (sirloin)
1/2 pound lean ground pork
1 1/2 cups MINUTE® Brown Rice, Instant, Whole Grain (Kraft), cooked according to package directions OR 2 cups cooked long-grain brown rice (nutrients are comparable)
1 large egg, beaten
1 1/2 teaspoons Kosher salt (or to taste)
3/4 teaspoon ground black pepper (or to taste)
2 cans CAMPBELLS® condensed tomato soup, red label (10.75 oz cans)
2 1/2 cups water
Directions
1. Core cabbage to get rid of tough center.
2. Place cabbage in a large pot of rapidly boiling water with the cored end down. Cover and cook 5-8 minutes until soft enough to pull off leaves. Repeat until all large leaves are removed. (Note: I have not tried this, but I'm told that you can also place the cored head of cabbage in a microwave safe dish with 1/2 inch of water and microwave until the large leaves are softened, repeating as necessary.)
3. Shave some of the tough part from the thick vein on the middle of each cabbage leaf so that the leaf will roll easily.
4. Saute onion in oil until transparent.
5. Cook brown rice according to package directions.
6. In a large bowl, mix meat, onion, rice, egg, salt and pepper. (You may want to cook a small amount of this mixture to see if it is seasoned to your taste.)
7. Divide the meat mixture into 15 equal portions. (Mine are usually about 3 oz each.)
8. Place one of the meat mixture portions onto the inside of a cabbage leaf. I find it best to put the meat mixture at the bottom of the leaf and tuck in the sides while rolling to the top of the leaf.
9. Put the rack into a 4 quart pressure cooker. Chop the remaining cabbage and put it in the bottom. Loosely layer the cabbage rolls, seam side down.
10. In a medium-sized bowl, combine the two cans of tomato soup with the water, stir until smooth, then pour over the cabbage rolls making sure enough of the tomato mixture gets down through the layers to flavor all the cabbage rolls. Place any remaining cabbage leaves on top.
11. Place lid on top of pressure cooker and cook over high heat until weight begins to rock gently. (if your pressure cooker has different pounds of pressure, it should be set on 15.)
12. Reduce heat just enough that the weight continue to gently rock with the escaping steam. Cook for 25 minutes.
13. Remove from heat and let the pressure drop naturally, about 7 to 10 minutes.
Makes 15 cabbage rolls. These are even better the next day or they can be frozen and enjoyed at a later date.
Source: http://recipes.sparkpeople.com/recipe-detail.asp?recipe=509399
If you have a recipe you'd like to share, please email: info@drahmadmd.com or visit our facebook page and submit your favorite recipes for others to see!