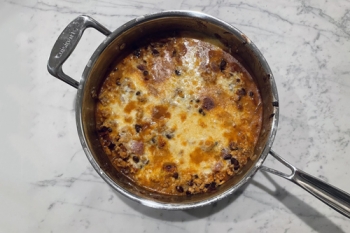 Ingredients
1 tablespoon olive oil
1 pound ground turkey
1 jar of salsa (any type is fine)
1 can black beans, drained (low sodium)
1 cup frozen cauliflower rice
½ cup shredded Mexican cheese
Directions
Heat the olive oil in a medium-large skillet over medium-high heat
Add the ground turkey and cook through, breaking it up as it cooks.
Add the jar of salsa, can of black beans, and cauliflower rice.
Cook together until heated all the way through.
Top with shredded cheese and broil until melted and browned.
Suggested (optional) toppings: Plain Greek yogurt, lime, and/or cilantro
Nutrition: 1/6 of recipe serving = 319 calories, 26g protein, 5g fiber, 13g carb, 6g fat
Recipe by: Gigi Ravenhall, RDN